The Best San Diego Lesbian Bars & Nightclubs to Meet Singles
A whole lot of positivity has surrounded the LGBTQ+ community in the USA in recent years. In general, activists have had a remarkably positive response to their campaign against marginalization, ensuring that queer females can hook up and be loved-up openly across the country. Ironically, this significant step towards equality has induced a decline in the number of girl bars and clubs in America. Notably, there are fewer spaces for gay girls and women on the local lesbian dating scene.
Fortunately, San Diego is still holding on to its very own lesbian bar. Nevertheless, Covid-19 has created a novel dilemma other than where to meet a lesbian in San Diego. Restrictions surrounding interpersonal interactions make casual encounters almost impossible, but that isn't to say you must kick dating to the curb. Do the groundwork onscreen and meet single lesbians online. Match with a potential partner or make new friends with benefits, all in time to hit up these top LGBTQ+ bars and clubs upon their reopening.
1220 University Ave, San Diego, CA 92103
As Southern California's only lesbian bar, Gossip Grill has organically gained its status as the cornerstone of female queer society in San Diego. Upon opening in 2009, the Grill slid straight into position as the region's best women's bar. Since, its popularity has gone from strength to strength with native lesbians and women state-wide. The venue dons the most ironically deluxe décor as a tongue-in-cheek nod towards its down-to-earth character that forever strives to keep the party classy, not sassy. With an emphasis on strives. After all, it is the only spot on the local nightlife scene where you can share conversation over Liq Her and fill a hole with a side of Foreplay. Whether you identify with the Fizzy Feminist or the Juicy Melons Mule, meet up with friends to discover your Gossip Grill cocktail alter-ego. Make mine a Modern Morning Screw.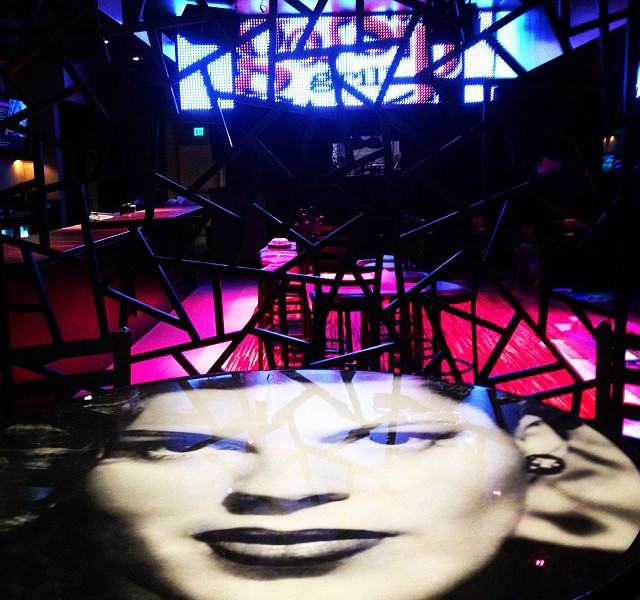 1807 Fifth Ave, San Diego, CA 92101
Suggestively rouge walls and decadent chandelier-prismed lighting make SRO Lounge a swanky setting to meet a new partner. Despite its luxe interiors, SRO is remarkably unpretentious and has provided an LGBTQ+ space on the San Diego social scene since 1982! Surviving the societal turbulence of the last four decades, SRO's popularity with native gays has seen it through. Offering an affordable drink menu and a daily happy hour from 2pm 'til 7pm, hook up Friday and Saturday at the Lounge for their reoccurring Gurlz Nite Out party. It's a dating no-brainer.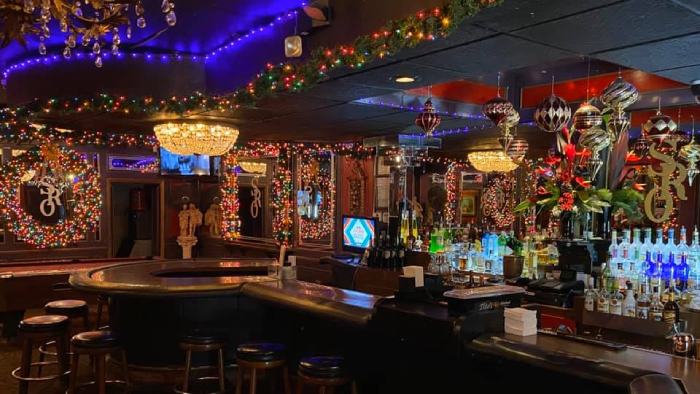 1458 University Ave, San Diego, CA 92103
Turn things down a notch or two with a chilled rendezvous at The Hillcrest Brewing Company. Instead of spending your energy on the dance floor, enjoy an afternoon basking in sexual tension with your online match over craft beers and super tasty stone-fired pizzas. You'll find that the rustic food, relaxed outdoor seating, and reclaimed wood features add an authentic feel to the foundation of your new relationship. Make a surprise suggestion and stop by this spot early doors to share a novel Brunch Bubbles Kit, complete with sparkling wine and fruit juice. What's not to love!?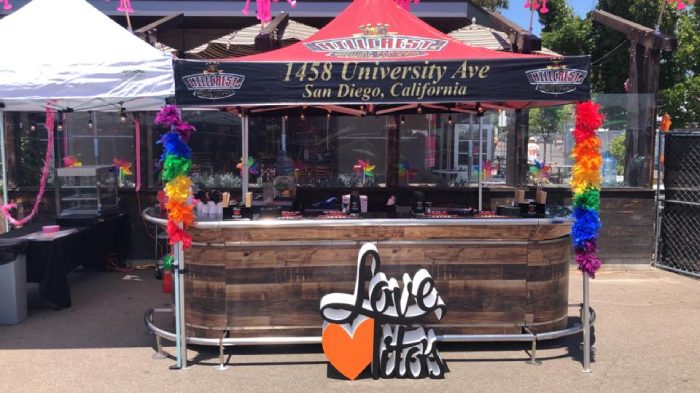 3845 Fifth Ave, San Diego, CA 92103
Another veteran of the LGBTQ scene in San Diego, Hillcrest's notorious gay bar has been creating quite the stir for almost 40 years. Non-stop queer capers are the name of the game at Number One-Fifth Avenue, with themed dance parties, karaoke showdowns, and glorious games nights, each hosted by the best names in San Diego drag. Lots of men hit up this hotspot, but women and their friends and more than welcome.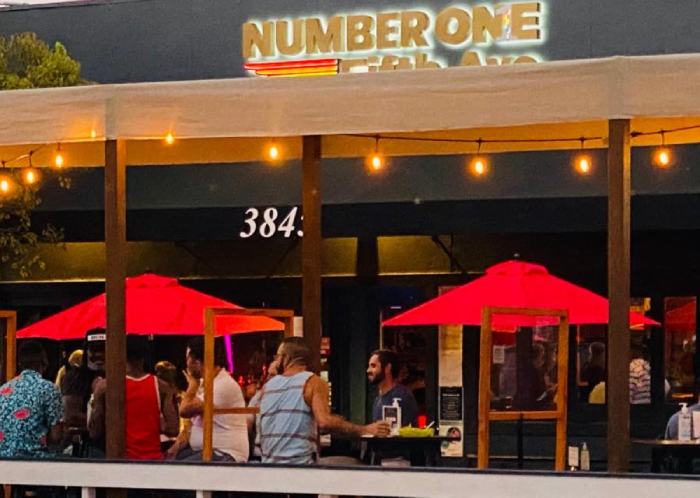 308 University Ave, San Diego, CA 92103
Urban Mo's Bar & Grill doesn't attempt to contend with queer clubbing hotshots. Rather, the venue provides a calm gay haven in Hillcrest for single gay men and women to meet a match and get merry. Serving infamous drinks of face-twisting strength, a cheap stint to Urban Mo's doesn't equate to a sober one. Start any – or every – day as you mean to go on with bottomless Mimosas or drop by to curb your hunger from their awesome American diner food menu. If you last it out until nightfall, shake off the liquor shots on the dancefloor to music from live DJs.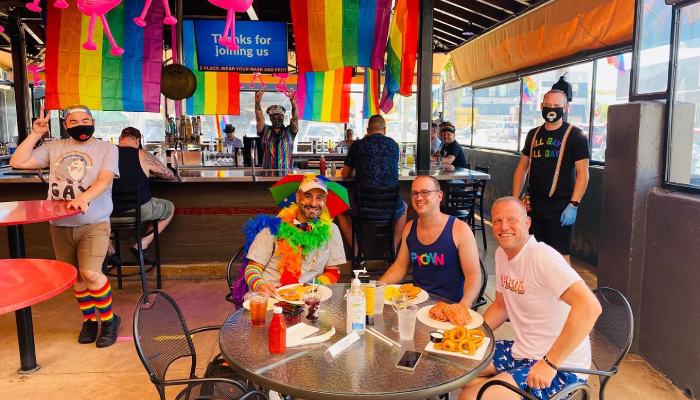 3940 Fourth Ave, San Diego, CA 92103
If you're looking to impress with an all-inclusive evening date, complete with food, drink, and entertainment, Martinis Above Fourth is the one. The award-winning supper club's expertly-designed interiors create an upscale restaurant ambiance free from any accompanying pretense. Trendy and classic, formal yet comfortable, Martinis is a joyful joint of juxtaposed contrasting character traits, which are sure to delight. Choose any dish from the traditional American menu, request a Martini, then sit back, relax, and take in the entertainment.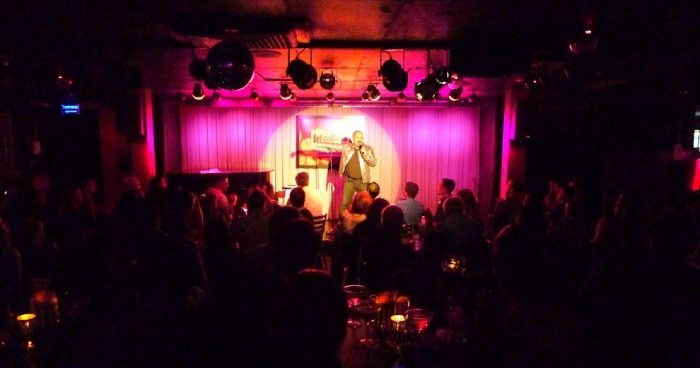 1051 University Ave, San Diego
Sometimes your feet just want to hit the dancefloor, and Rich's on Uni Ave knows it. A night out here is all about embracing the full gay clubbing experience, VIP booths, live DJs, light shows, hot Hillcrest crowds, etc. Predominantly attracting gay men from the area, gay girls will still be swept away by the extroverted energy running through Rich's veins. To be among like-minded ladies, visit the venue for Lesbian Night Thursdays.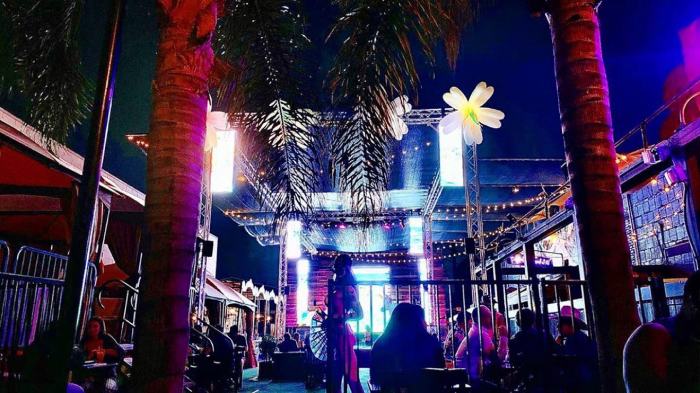 4012 30th St, San Diego, CA 92104
Catering to a community where karaoke is king, it's a real feat to be hailed for selection of songs. Yet, Redwing casually bags that accolade time and time again amongst its regulars. For a neighborhood dive bar, this spot is distinctively smooth and well-styled. You certainly won't need to peel your feet from the floor or navigate any artistic interpretation of a restroom. Nevertheless, Redwing does maintain some of the finer divey qualities: its anything-goes atmosphere, smoking patio, and bar games. There's also some great grub on offer to satisfy your hunger after all those day-long happy hour pours.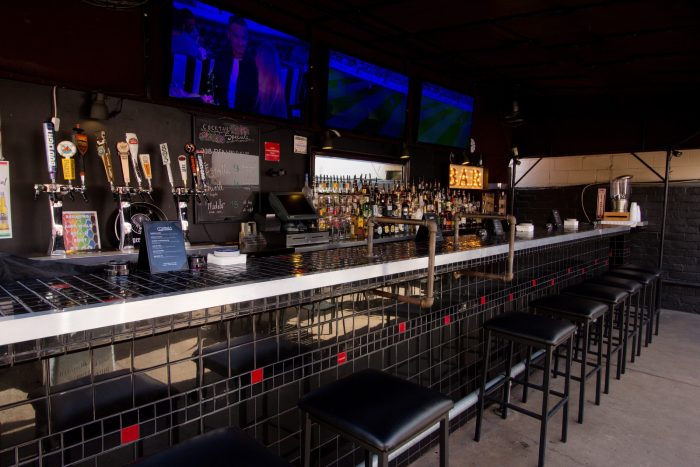 3796 Fifth Ave, San Diego, CA 92103
Serving the gay community in San Diego since 1960, The Rail is the OG nightspot for LGBTQ+ late-night shenanigans. Among gay men and women across California, The Rail needs no introduction. This old-timer has done its dues and earnt its reputation among loyal locals as the most dependable queer-centric dance club city-wide. Perfectly polished with a bare brick bar, grungy metal shelves, and exposed filament bulb lighting, San Diego's landmark gay bar has moved with the times, to ensure it oozes modish vibes.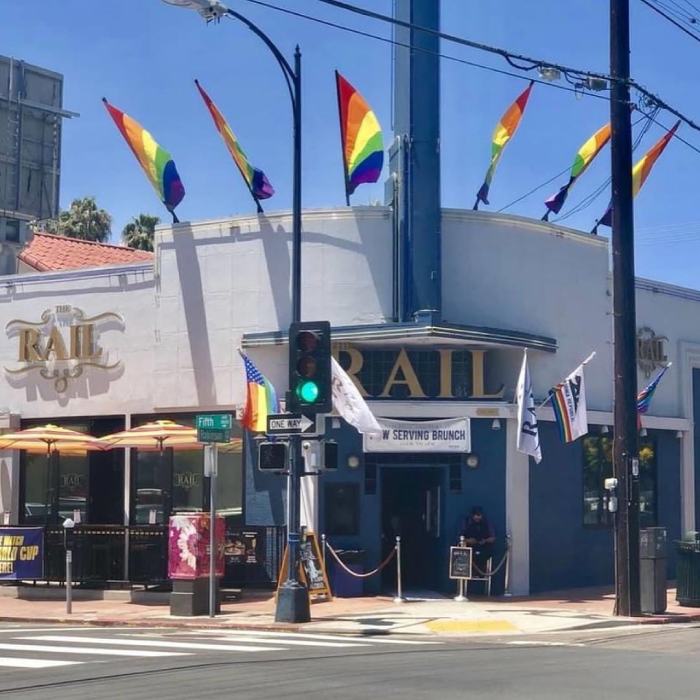 500 Fourth Ave, San Diego, CA 9210
Get down to Gaslamp Quarter with your girl for a night of neon nonsense at FLUXX. A relatively new addition to the city's nightlife scene, the club promises people an 'experiential' music experience with a jam-packed calendar of performances from live artists and international DJs. Strictly, FLUXX is a straight venue, but it wears its LGBTQ+ friendly badge with honor.