The Best New York Lesbian Bars to Meet Gay Singles
It's never been easier to find dates with single lesbians across the US than it is right now. Since the early noughties, an ever-increasing amount of love and support has surrounded the queer community. Truly, casual encounters with naughty New York ladies is a little bit of you; there's never been a better time to make an appearance on the lesbian dating scene and match with local gay girls.
At a time when W4W bars are in decline across the country, as a native to the city that never sleeps, you're spoilt with a choice of where to meet lesbians in New York. What's more, thanks to online dating, not even Covid-19 can get in the way of your horny hookup! Meet single lesbians online before hitting up the hottest New York lesbian dating spots.
438 Hudson Street, New York, NY 10014
This lesbian-owned bar cum nightclub is universally respected as the top social spot in NYC among native gay girls. This suave urban space has been welcoming women and their friends for over a quarter of a century, all the while scooping over 100 awards in recognition of its standing in the LGBTQ+ community since 1991. The amalgamation of incredible cocktails, inclusive crowds, and renowned DJs fuels the unwavering popularity of the Henrietta Hudson. Hook up here, and it's guaranteed that all those friendly feels will escalate your date from hot to horny.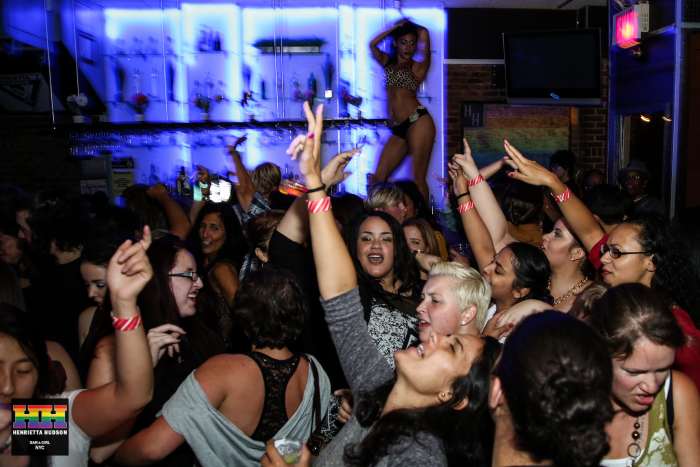 281 West 12th Street, New York, NY 10014
LGBTQ+ friendly but a firm favorite with women seeking women in New York, Cubbyhole is West Village neighbors with the Henrietta Hudson. Lesbian, gay, and straight singles alike love the bright and daring décor, retro jukeboxes, and complimentary snacks at this inclusive iconic venue. Joining the Greenwich scene in 1994, the bar is in a long-standing relationship with locals. After all, it's rare for Cubbyhole virgins to never make a return visit.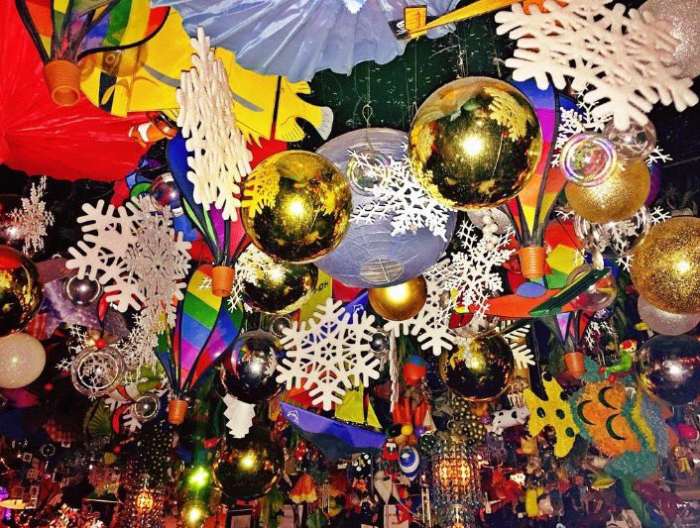 53 Christopher Street, New York, NY 10014
It's almost a crime to slide onto the city's gay dating scene without making a respectful stop-off at the great Stonewall Inn. As LGBTQ+ history tells, this very bar marks the spot of the Stonewall riots, pivotal to the progression of the gay rights movement in the late 1960s. Now the pin on the map for 'Where Pride Began' in the United States, this legendary landmark is much-loved amongst queer people in New York and tourists too. Share in the love and grab a drink at Lesbo-a-Go-Go, the bar's Friday night event for women, featuring music, liquor, and go-go girls all with excess oomph.
447 East 13th Street, New York City, NY 10009
As the self-proclaimed mainstay for the gay community in the East Village, Phoenix Bar never fails to pull in the trendy queer crowd. Aptly named after rising from the ashes of building fires, withstanding hurricanes, and battling through blackouts, society can depend on this go-to gay bar to stand more than the test of time. Often full to the brim with guys, women are more than welcome to soak up the relaxed vibes of this female-led LGBTQ+ locale.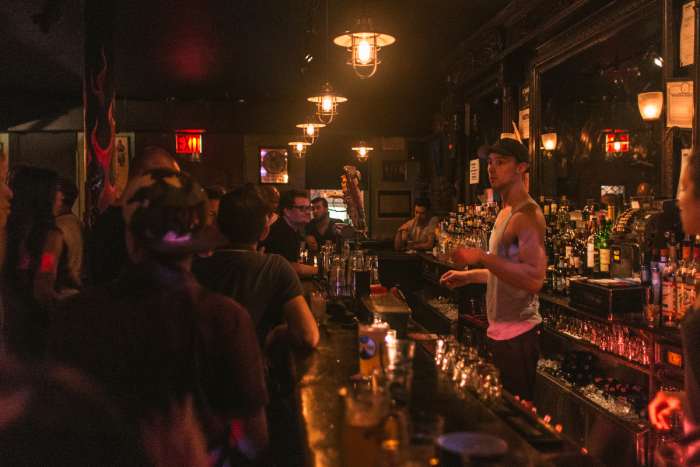 635 Sackett Street, Brooklyn, NY 11217
Mid-month, head over the East River to the heart of Brooklyn to hit up the sweetest dance party for queers. Held at the venue of the artsy event, Littlefield, presented by Matty Beats X Horrorchata, this cutesy monthly bash is big with gay singles who love loud music and outrageous drag shows. Expect a diverse turnout, as the flyer makes clear, all are welcome here from earthling homos to aliens from outer space. Book tickets in advance to save a dollar on the door.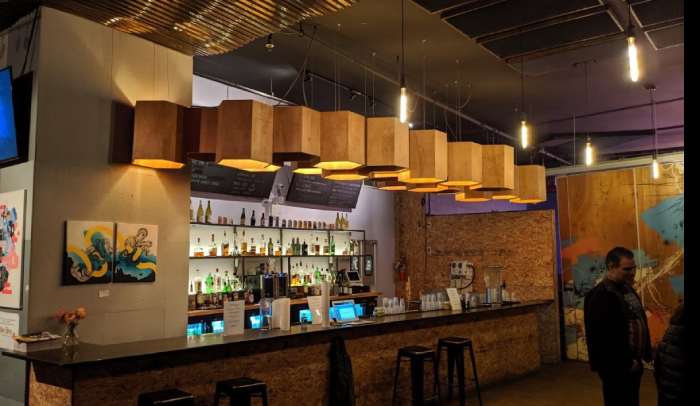 146 Broadway, Brooklyn, NY 11211
With the decline of designated lesbian bars in the US, Hot Rabbit hosts some of the hottest party nights for the NYC LGBTQ+ community. Specifically, for women seeking a casual female partner, Hot Honey is the brand-spanking-new burlesque spectacular, showcasing classy cocktails, hit-the-spot snacks, and stellar beats. Spend your evening lapping up the lust-inducing gogo dance performances breaking only for a tarot reading under the stars. Check out www.hotrabbit.com for deets that are almost as delish as their canape food menu.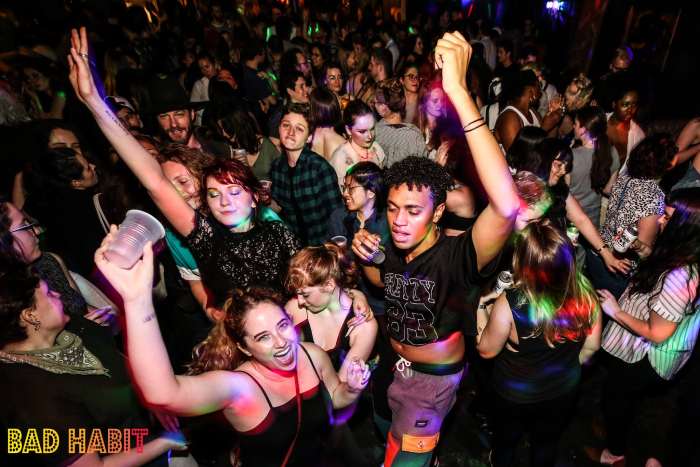 2 Wyckoff Avenue, Brooklyn, NY 11237
House of Yes is the very best LGBTQ+ venue in Brooklyn. At least that's the common consensus amongst those who frequent the scene. Not only does this venue promote inclusion through hosting events, but it also works to book gay and trans acts for the most epic performances. Much more than a nightclub, prepare to be blown away by the sexy circus and cabaret shows, alongside traditional dance party madness. Complete with open-hearted team members, insanely glitzy interiors, and creative celebrations of the weird, wild, and wonderful parts of life, HOY is so much YES. Welcome to the 'temple of expression.'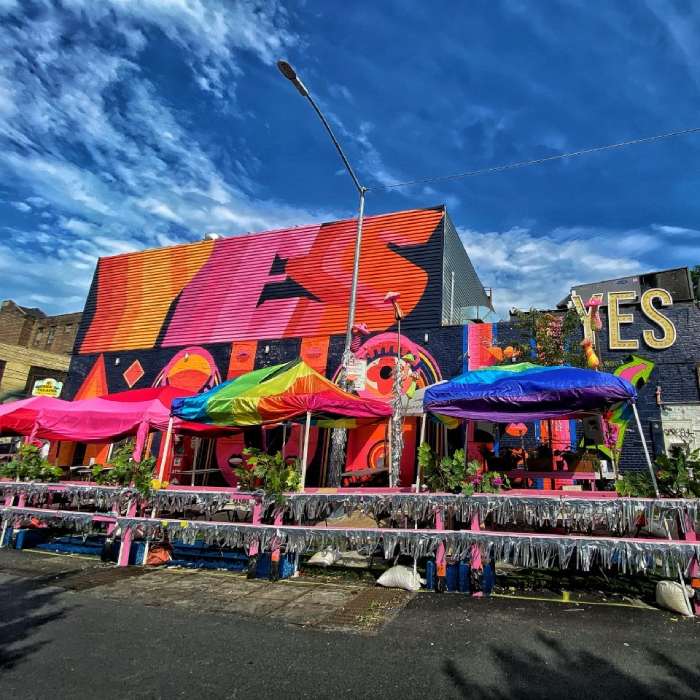 484 Union Avenue, Brooklyn, NY 11211
Bestowed to the world by the fabulous feminist and activist DJ JD Samson, Pat is the voguish party space for the current mixed LGBT crowd. One thing's for sure, as a Brooklyn-based artist and musician, Samson has got this demographic down, producing a free monthly event for anyone and everyone wearing anything. Let loose and do you amongst like-minded people at the superlative queer shindig with 'DJs who aren't afraid to go deep.'