The Best Denver Lesbian Bars & Nightclubs Local Singles LOVE
It's true that Denver isn't blessed with devoted gayborhoods, such as those you would find at Downtown LA or Andersonville of Chicago. Nevertheless, there's no need to fret over where to meet lesbians in Denver. Although there isn't a dedicated lesbian dating scene, there are countless LGBTQ+ friendly, inclusive bars and nightclubs across the city – one of which is lesbian-owned.
The lack of Denver lesbian dating spots amalgamated with Covid-19 constraints means that this is the ideal time to meet single lesbians online. Make the most of your time indoors and make like-minded connections from the comfort and convenience of your own home. Ramp up the raunch-factor by chatting with a potential partner onscreen. Tens of inclusive bars and clubs will be waiting to play host for your casual date in Denver whenever the time is right. Here's one or two… or, ten.
There might not be a dedicated lesbian scene in Denver, but Jody Bouffard is doing her bit for queer females. Blush & Blu is the only lesbian-owned venue in the city and, as such, draws in gay girls in droves. Considered amongst regulars as les-centric Cheers, this happy-go-lucky spot is a relaxed option for a coffee date with a prospective partner. If all goes well, you could make it into the evening for an infamous Lipstick Lesbian shot, which perfectly complements Blush & Blu's Underground Poetry and comedy events.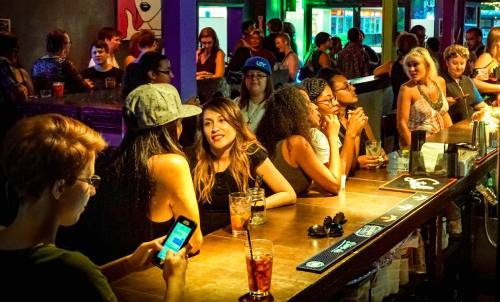 4958 E Colfax Ave #1208, Denver, CO 80220
The R&R Lounge in Denver is the epitome of the clichéd neighborhood gay bar, complete with a friendly crowd, welcoming bartenders, and personal service. While the bar is predominantly propped up by gay guys, lesbians also love to hang out here to make the most of dive's dart boards and strong drinks that are kind on the wallet.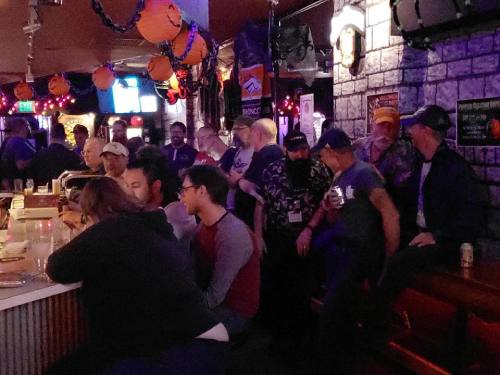 629 E Colfax Ave, Denver, CO 80203
X BAR promises to be the best LGBT bar experience for its Denver-native queer clientele. Unlike other late-night venues across Colorado, X BAR encourages casual dressmaking for the coolest laidback clubbing vibe. Open Monday through to Sunday, this lively spot-kicks the week off at a steady pace with karaoke nights and lip-sync battles, before notching the noise up a level for a thundering dance experience for the weekend. Come as you are with your online match.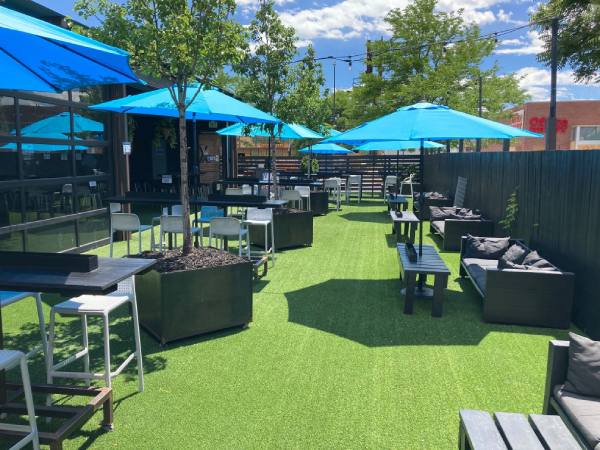 450 E 17th Ave #110, Denver, CO 80203
Pride and Swagger is the LGBTQIA bar that has it all. Modish, industrial décor creates a hip base for the queer single seeking an alternative option to what has become an archetypal gay style. Pay a visit to the patio to place your drink order from an affordable menu that runs week-long or splurge on a signature Swaggertini. Bar food is simple, with a small selection of pizza and wings, but it certainly hits the spot, ensuring you maintain your stamina to catch the evening's entertainment. Pride and Swagger's persistent popularity is perfectly comprehensible.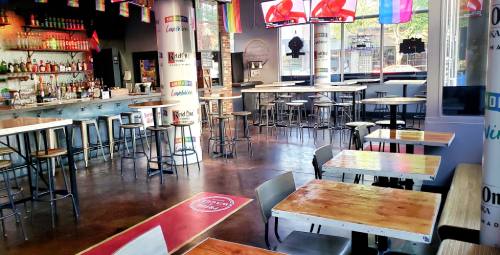 HipChicksOut isn't a bar, but rather a social group formed for by lesbians for lesbians and their female-identifying friends. Since 2005, HCO has organized countless events across Denver, more recently working its magic in other areas of the US too. A notable favorite among members is the chucklesome HipChicksOut Crashers, which sees the girl gang head out to straight venues and transform it into a less-centric haven for the evening. Keep an eye on HCO's Facebook page where people in the know post news on upcoming events. It's a great way to meet a compatible match, get into sporting activities, and attend cultural outings with friends.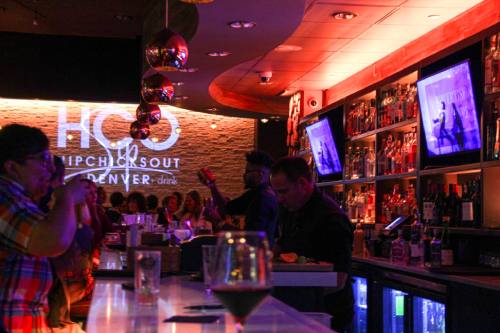 3500 Walnut St, Denver, CO 80205
First opening its doors in 1980, Tracks is a gay bar with a strong LGBTQ legacy in Washington DC, New York City, and Tampa. While its RiNo spot is the last of the remaining Tracks locations, it makes its history proud as one of the longest-running queer-friendly venues in Colorado. Home to the Insta-perfect Rainbow Alley, be sure to reserve a table for your date to whether for eats, drinks, or entertainment. Post pandemic, Tracks is offering the social distancing options at their most stylish.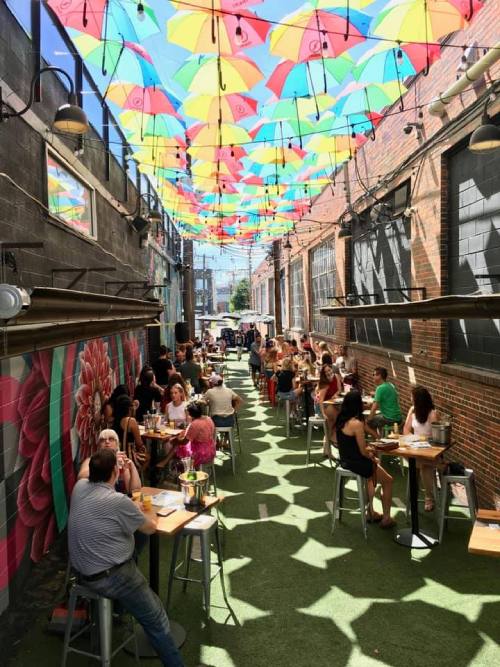 900 E Colfax Ave, Denver, CO 80218
Is there any kind of venue as exceptional as a gay bar cum western saloon? Absolutely not. Link your partner by the arm and head down to Charlie's for a toe-tapping evening of Top 40 chart hits and traditional country bangers. As well as line dancing and DJ dancefloor fillers, the venue never fails to delight with its eccentric drag shows.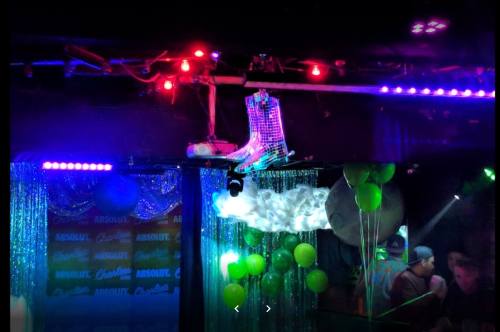 2036 N Broadway, Denver, CO 80205
If you're inclined to associate the gay dating scene with cheesy settings and trashy lighting, allow The Triangle Bar to kick all those connotations to the curb. Situated in downtown Denver, this contemporary gastro eatery moonlights as the classiest of cocktail bars to satisfy the most trend-savvy queer. Hanging out here is the ultimate way to impress an eco-conscious match, as the Triangle strives to serve sustainable produce from local sources.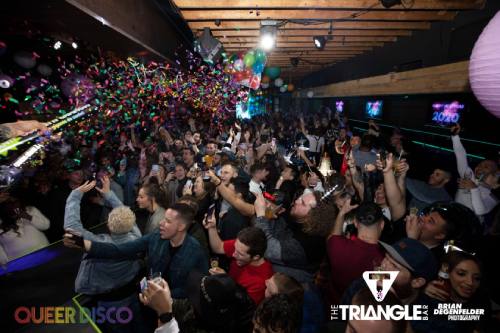 5660 W Colfax Ave, Denver, CO 8021
Lipstick Disco is the collective brainchild of all the heavyweight female greats in the Denver music industry. Born from the Lipstick Disco blog, which celebrates all things house and disco from female professionals, from its conception, the event was created by women for women. Now a monthly event at the LGBTQ+ friendly Lipstick Club, the LD collab mixes up the space's signature sound for an alternative concoction of electro, garage, house, and all that's in-between. Find someone on your wavelength and share your love of music at this monthly shindig.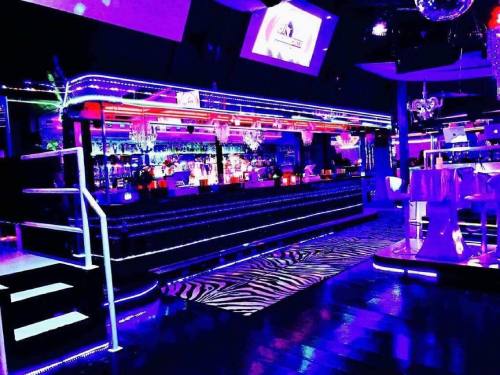 1027 N Broadway, Denver, CO 80203
It's hard to conceptualize a late-night club with a truly serene air about it, but #VYBE achieves the unachievable. Attracting a mixed crowd 7am while 2am, seven days a week, this hangout space is your go-to social hotspot for exceptional service and an entertainment schedule that never tires. Whether you hook up to catch the game, chat over drinks, or soak up the atmosphere of a thrilling live act, #VYBE is a choice space to form the foundations of your new relationship.