Ways of Turning Her on: Mastering Dirty Things to Say to a Girl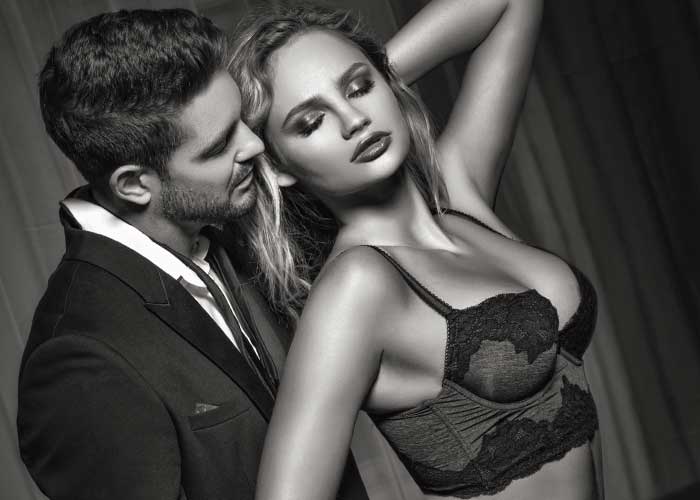 Why is it so important to think of kinky things to say?
When it comes to relationships and sex, the bottom line is this. If you think simply telling a girl how much you're turned on, and are far less focused on the dirty things to say to get her hot and bothered, she's going to get disinterested very quickly. There are a lot of things you can do to your partner without having to articulate anything, whether that's playing her favorite ballads on the music system with the lights turned down, or a sensual massage. Even a wink and a lascivious smile will do it. But never forget the power of one of the most potent weapons in your arsenal. Words. If you can think of things to say in bed to turn her on and make sure she hears them at an appropriate time (perhaps whispered into her ear while you indulge in sweet caresses) she'll be putty in your hands.
How dirty subjects should be broached
There's a subtlety involved when it comes to considering dirty things to say to a girl. You can't just blurt out innuendos like some dodgy 1970s sitcom. This type of chat should never be cheesy or seem contrived. The keyword to have in mind when thinking about dirty talk to a girl is honesty. Tell her exactly how you're feeling, how much you appreciate her, how you want to ensure she's satisfied. But don't make this sound like desperation, either. After all, what you are hoping to achieve is some enjoyable and very physical adult intimacy. So use honest terms, but frame them around vivid descriptions of exactly what you'd like to do when you're along together. If you know the stuff that turns her on, focus on that. Don't hold back. If you can appear to be confident when you're painting this carnal picture, your words will fill her with passion.
Although dirty talk should always be spontaneous, not everyone is blessed with a silver tongue which can pluck these expressions or suggestions out of thin air at the precise moment they're required. So there's nothing wrong with doing some preparatory work. Before you get together, dwell on what you got up to last time you were in bed together. What did she really like? Jot down some choice phrases you could come up with to discuss this activity. Now, look at what you've just written and think about how you could make it even more R-rated. There's absolutely nothing wrong with making the details even more explicit. Or liberally injecting it with the sort of strong words they warn viewers about before an adult-themed film or documentary is about to play on TV. If you feel you have to, and are positive you are alone, try a dry run. Even go to the bedroom, lie back next to her pillow, and practice your best dirty talk. After all, every line delivered during an Oscar-winning performance in a movie was rehearsed many, many times. This will help to build your confidence if it needs building.
The one note of caution: if you do scribble down some ideas for dirty talk, far better to learn the lines off by heart, like an actor, after a few run-throughs. That little piece of paper could come back to haunt you if you carelessly toss it into the bin, where your partner might come across it. Dirty talk must always give the impression of spontaneity, of coming straight from the heart. Discovering the early drafts of the speech she heard last night will be like a spell being broken. Your attempts will never be taken seriously ever again.
Sexual things to say to your girlfriend at night
Dirty talking lines can cover so many different areas, but tried-and-tested phrases might concentrate on body parts. What you'd love to do to those body parts – especially from the point-of-view of how you want to hear her appreciating those body parts being stimulated. Tell her how much you love to hear her moaning, especially as she's approaching climax. A recommended approach would be flipping your dirty talk from positive to negative thoughts. Rather than making your encounter sound as if the background soundtrack should be soppy orchestral music, get grungier and even more explicit. Think in terms of nasty things to say to your girlfriend. Tell her you'd like to treat her like your slave. Discuss going down on her, and don't hold back about going into really descriptive details.
21st-century flirting: harnessing the power of the sext
As well as actual dirty talk, modern technology has introduced a whole new dimension. When you're not together, you can still get her hot and wet by dreaming up freaky things to say to your girlfriend and then popping that stuff into a text, or sext to use the correct term. The beauty of this approach is you can take time composing your horny communications – a bit like those notes previously mentioned. Once you've edited what you want to say, in as lurid a way as possible, press 'send.' Sexting messages to send to your girlfriend will have a similar effect to foreplay, ensuring her hormones are stimulated long before you meet up.
Kinky sexting ideas to send her can be either truthful or sheer fantasy. Although you're more restricted than speech in terms of the length of your message, even a concise sext can be crammed with juicy details of what you'd like to get up to when you're alone. You can describe exactly what you want to do, or you can make up outlandish stories, fantasizing about being naked together in some holiday paradise. There are no limits!