How to French Kiss: Top Tips for Guys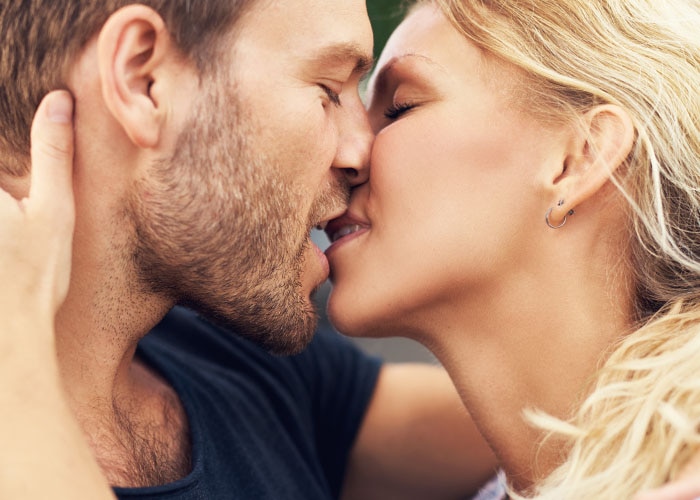 French kissing, which is sometimes called making out or snogging, is a type of passionate kissing that involves two people using their tongues to stimulate each other's mouths. French kissing can seem daunting if you've never done it before, but make no mistake, once you've learned to tongue kiss like a pro, you'll want to do it again and again! Here's how to be a great French kisser.
French kiss tips for guys
Using your tongue to kiss a girl can potentially lead to some awkward situations. That's why we recommend taking a look at these how to kiss with tongue tips. They can help you to make sure your French kissing session has more spark than slobber and is fun and enjoyable for you both.
Include your body
If you want to make French kissing exciting and passionate, try to involve your body as well as your lips and mouth. This will help to build the intimacy between you and your partner. You may be wondering where to put your hands when kissing a girl. Instead of putting them by your sides or in your pockets, try touching or rubbing the other person. Place your hand on the back of her head and French kiss her passionately.
Keep good oral health
French kissing involves getting very close to the other person with your mouth. Therefore, it will benefit you both to make sure that your oral health is up to scratch. It won't be pleasant for her if she has to smell your bad breath, so do her a favor and keep your mouth smelling minty fresh. It's also worth noting that if you have facial stubble or a beard, try to make sure it's not too sharp.
Introduce your tongue slowly
What to do with your tongue when French kissing is likely to be one of your biggest concerns. The last thing you want to do is take her by surprise with your tongue, so try to slip it into her mouth slowly and gently. Ideally, it should become part of the natural motion of your mouths whilst you're kissing. Don't just dive straight in there for a French kiss and you'll be unlikely to get the response you want!
Don't slobber
It's hard to avoid things getting sloppy when French kissing, however, there are things you can do to reduce the amount of saliva you're producing. If you feel that things are getting a bit too slobbery, close your mouth and move your lips to her cheek or neck instead. This will give you chance to regroup.
Don't bump her teeth
Colliding with a girl's teeth can quickly take the passion out of French kissing. So, to avoid this happening, try not to open your mouth too wide. If you do this, she will only be able to feel your tongue and your teeth, rather than your soft lips. Be mindful when you're kissing a girl of how wide you're opening your mouth.
Hopefully, these French kissing techniques have given you some insight into how to master the art of tongue kissing! Once you've done it a few times, it will feel effortless, and that's when you'll really begin to enjoy this wonderfully sexy form of affection.