How to Flirt with a Girl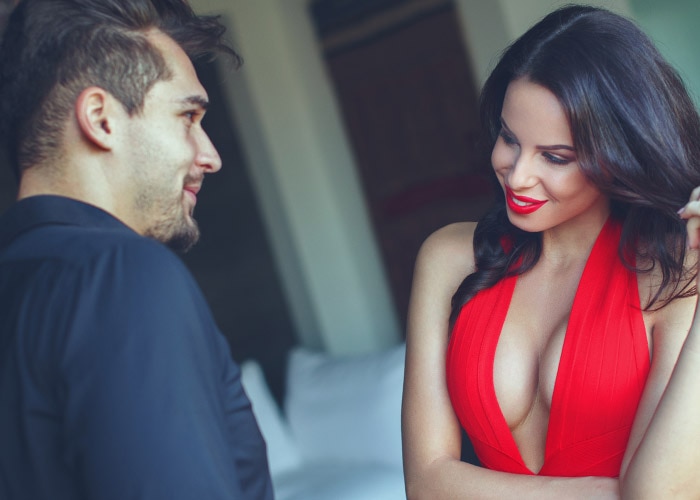 The art of courting is a subtle one and it is a battlefield that everyone must move through to engage with the person they're interested in. Women tend to be able to flirt with ease as it is unlikely that the guy she is interested in doesn't want her back – this doesn't always happen, but it is more likely to happen to a woman than to a guy. So, it tends to rest in the hands of the man to make the first move or mimic her flirting. We have made a list of subtle ways to flirt with the girl you're interested in and how to keep her engaged when speaking over text too.
How to Subtly Flirt with a Girl
The mystery is an integral part of dating and flirting as you want to maintain some ambiguity, so you can continue to engage your partner. Overt flirting can turn a girl away or make her feel uncomfortable – especially if you've misread the situation – so for the sake of your sanity and chances with your desired woman it is best to keep to subtle techniques when trying to court a lady.
Eye Contact
The eyes are the window to the soul, so maintaining eye contact is incredibly important in letting a certain woman know you're interested but it goes beyond simply focusing on her eyes. To really flirt subtly with a woman through eye contact you need to keep your mood playful and engage with what she is saying. This will add a light and excitement to your eyes that'll captivate the woman you're talking to and make her want to learn more about you.
Playful Contact
When you're first speaking to a girl, then it is prudent to use eye contact to feel her out and understand what she wants. If everything is going well, then moving to playful physical contact can help you seal the deal. Subtle maneuvers, such as playful pokes, light touches and pushes can help a girl to understand that you're interested in her.
Wit
Men need to be funny to engage a woman; it is a simple fact of nature that women are drawn to witty men – I mean how many times have you heard a girl say she likes a girl because he was able to make her laugh? Although not always true, those who're good with jokes tend to be thought of as intelligent, so when you can make a girl laugh you're able to present yourself in the best light possible. Furthermore, you're able to create a bond with one another as you share in an experience that has bought joy to you and her.
Compliment
Although it may seem overt if done correctly complimenting a girl cements the relationship you're building through flirting. You don't want to go over the top and crack out the compliments as soon as you start talking but by mentioning what you like about her you'll improve your standing with your desired woman immensely. Compliments such as; 'I think you're so easy to talk to,' are subtle and let her know that you enjoy her company.
Get Her Talking
You don't have to take a complete backseat in conversation, on the contrary, you should be engaging fully and listening to the woman you're interested in but if you want to subtly show your interest, then it is best to get her talking. Ask questions, find out her opinions and then interject with your own points of view. By actively keeping the conversation rolling, you're showing her that you don't want to stop talking and want to learn more about her.
How to Flirt Over Text
All the above are perfect ways to subtly flirt with a girl while you're together but in an age where many of us regularly communicate with one another via text or messaging outlets, you need to be able to flirt online as well as off. Flirting over text is an art form as you can't rely on body language to express how you're feeling, so you need to really think about what you're saying and how it comes across to her.
Be Genuine
You can't stop yourself from seeming bored or fake when you're trying to force conversation or craft responses that don't reflect who you are. You may not think she can tell, but she can.
It can be daunting as you want to impress her but that doesn't mean you should lose who you are in the process. Be honest with your responses without being overly inflammatory and she'll begin to see you for you.
Keep it Fun
As the tone of voice and the use of body language are inaccessible when texting, you need to be able to keep it light as you never know how your messages could be perceived. More serious conversations are perfect ways to engage a woman when you're physically present, but you should keep to more light-hearted topics when texting. Be playful, joke around, and tease her and you're sure to keep her interest in you.
Engage Fully
Don't just send typical messages as you will seem disinterested or lazy when messaging her. Try to really craft your messages and instead of the usual 'hey, what's up?' try to think of something that'll get her mind whirling, will make her smile and make her want to message you back.
With our tips, you'll become a flirting master within no time at all, but it is always best to remember to change your methods to fit the woman you're talking with. If she wants to engage with you in a certain way, then take the opportunity to alter your methods. A woman will be able to tell when you're being ingenuine and when you're just trying to engage her because you find her physically attractive. Take the time to get to know her, understand her and engross yourself in conversation, then in no time you'll have won her over.