Meet Gay Singles in Nightclubs as Well as Via Online Dating
When you, as a gay, wonder whether you want to go to the online dating site or not, just think about the fact that if you don't want a gay dating site, what do you do? Have you got any other choices in your hand? If so, it's good, but there's no problem trying out online dating websites for gay people. The social constraints and obligations are too much for people to have not enough time or confidence to go out and find a partner. In the case of gays, this is valid. The advent of gay online dating sites has helped all gays to lead happier lives with their own choice of partner. You will embrace love without any responsibility. Much like anyone, you are free to find your soul mate. Any time that suits you like evening, afternoon or morning, you can check for gay singles. The websites are open all hours for you. Before committing to any gay dating website, attempting to use their services a few times and then making a decision is recommended. The variables would be like the number of singles, comfort zone, availability of email accounts, bulletin boards, and chat rooms available in your area.
The Top 5 Gay Bars in San Diego
Standing there since 1983, Flicks is a video bar very popular with the local gay community in the Hillcrest neighborhood. They have over 15,000 video clips, not to mention the karaoke and the games. If you like to watch people, you can just sit and relax with a beer on the outdoor patio, which is quite big. It remains open every evening until two in the morning.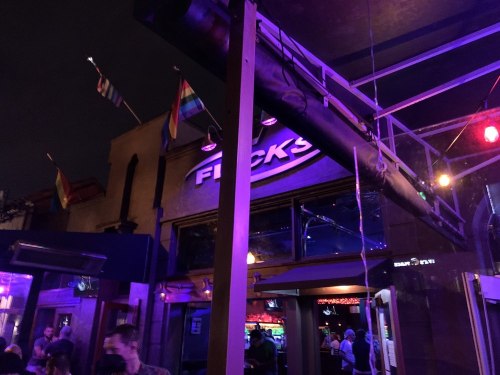 Residents of the gay village of Hillcrest in San Diego say that #1 Fifth Avenue is a legend to the locals. It has windows that open on the street, so you can have a great time having a drink and watching people lazily. The bar presents theme events monthly, which are quite good fun. You have a FunDay of Sundays, Pictionary on Wednesdays, which is a blast, live acts, comedy, karaoke, all the buzz. On every month's last Tuesday, they held art shows. Overall, this is a great place to visit if you are looking to have some pure fun.
This gay bar in San Diego has won multiple awards and is quite stylish and upmarket. There is a huge lounge space with contemporary décor. You will get live shows and fine dining here, though the overall atmosphere is casual. Halibut with goat cheese and salsa, as well as their classic paella, are all-time favorites of the patrons. You get forty plus options at the tapas bar, but the post-dinner cocktail is best enjoyed at the sophisticated back bar. If you are a connoisseur of martinis, be sure to taste their specialty martinis, which are over a hundred in number. Apart from that, they carry a large range of beer, wine, and spirits. It is situated in the gay village of Hillcrest, and just a short distance from many other gay spots.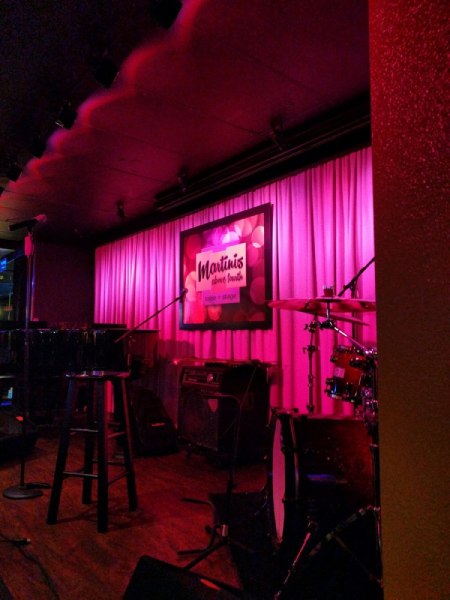 Sumptuous Mexican food on a beach and a gay-friendly, vibrant atmosphere – what more do you ask for on a bright sunny day? Add to that the renowned 36oz mega margarita at Fiesta Cantina with some awesome cocktails, and your days become perfect. The happy hours are daily from four to eight in the evening, and the outdoor seating area is quite big. Indoors you have comfortable seating and TV screens to keep you busy.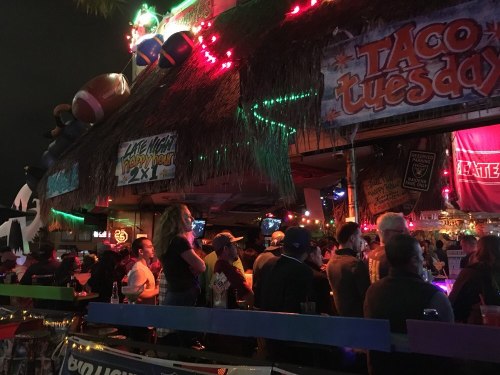 San Diego houses this LGBT brewery, which is the first of its kind in the world. Beer enthusiasts will love the great ambiance here. They offer delicious food along with house ales. You have the daily happy hours they call the Hoppy Hours, and there are also the weekly specials like Bottomless Saturdays as well as Two-for-One TWOsdays. The colorful community loves the pizza here. Oh, and did we mention it is located bang next to the Hillcrest Pride Flag, which is an iconic landmark?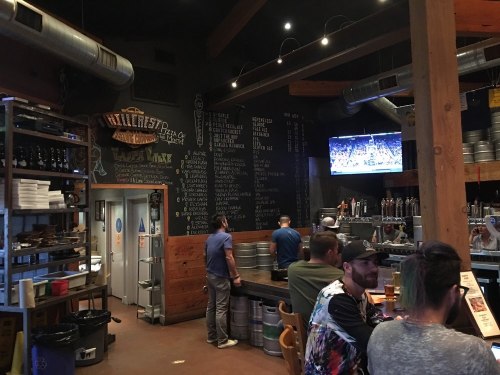 The Top 5 Gay Clubs in San Diego
This is not only one of the oldest gay nightclubs in the city but also one of the most loved ones. Energetic young crowds throng the dance floor, and the DJs keep them going. The full bar only adds to the excitement. The lighting is state-of-the-art, the bar staff very friendly and polite, and the music more in-house and dance remixes rather than top forties. It is situated right amid the busy Hillcrest location, which is a big convenience.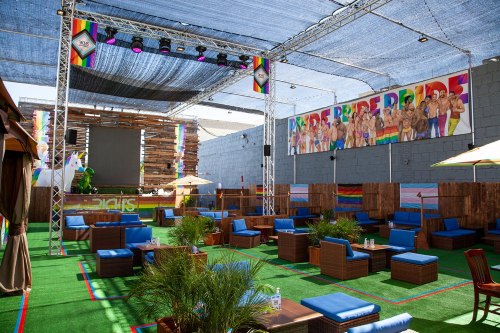 So far as gay clubs in Hillcrest go, The Rail is an icon, having served its clientele for more than fifty years. Here you can expect various themed nights, bottle service, and an outdoor area or a big patio. It is popular with the tourists as well as the locals. The ambiance is fun and lively, the bar staff polite and friendly, and the crowd colorful and diverse. It is also nearby to other gay hotspots, which makes it all the more attractive.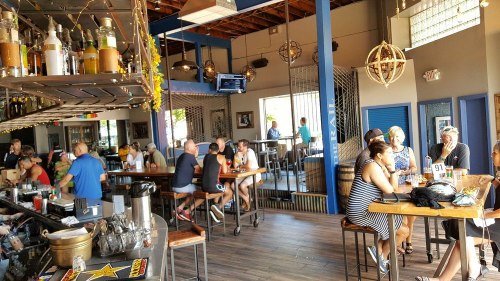 This is one place in the city where there are far more women than men. Though it is a well-loved LGBT bar and welcomes everybody, the lesbian crowd makes it really popular among the locals. An outdoor patio invites you to relax and sip on delicious cocktails, and the indoors will leave you awestruck with its feminine-inspired décor and typical American comfort food. The atmosphere is all-inclusive, and the main attraction is the special events and fun theme nights that are held in a rotating manner.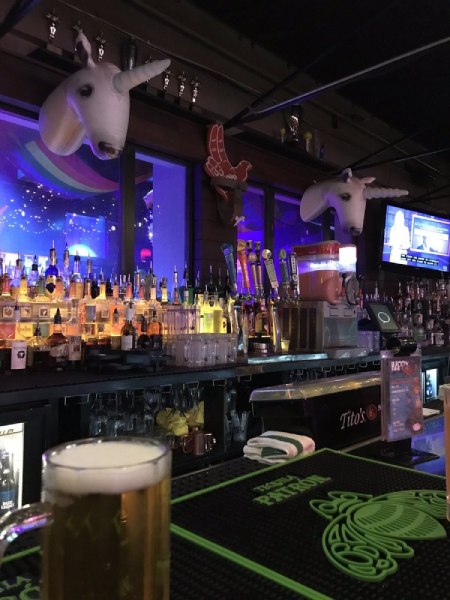 Ceilings covered with black-lacquer, dim lighting, and brick arches turn this Spanish restaurant into a romantic and intimate space where you can experience Spain in the middle of San Diego. Spanish rock bands, merengue, and local salsa keep playing for your entertainment. The weekend nights have flamenco shows during dinner. If you want to show off your moves at the downstairs club but are feeling nervous, you can opt for flamenco dance lessons here. Its Gaslamp location is really good because you can make it a stopover on a fun night out.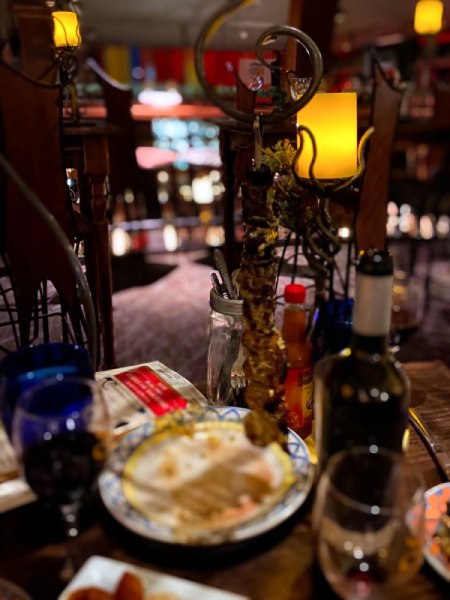 This one is actually a two-in-one club proposition. The same space houses Thin and Onyx Room on two different floors. At the street level, there is Thin, and Onyx Room is downstairs. This is a watering hole for the super cool crowd that loves to party. Imagine yourself with your friends, partying hard, with gorgeous eye candy all around and an excellent cocktail in your hand. Depending on which night you decide to go, you can enjoy different styles of music, from old-school to hip-hop and jazz. You don't have to pay extra to visit both clubs. Go online and register for their guest list if you are lucky, you might get a discount. They have a dress code, so keep that in mind. Of the two, the Onyx Room is more informal and has a larger selection of music.