Keep Romance Alive with Date Ideas During Coronavirus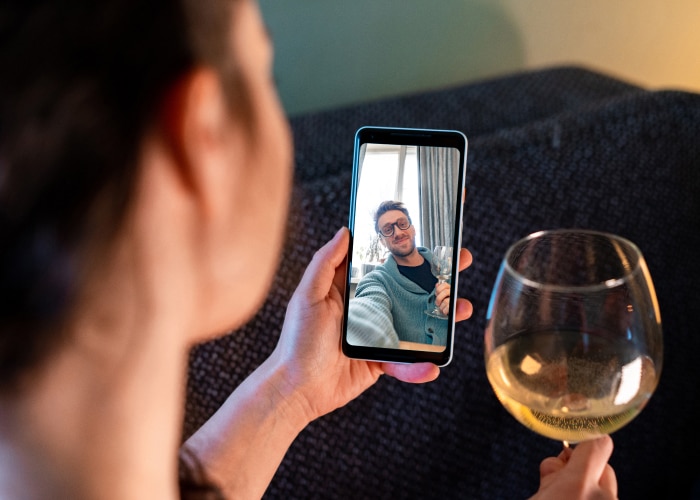 No matter how attuned your perception skills, no one could have foreseen the chaotic tragedy of 2020. In fits and starts all across the nation, states and their cities have been turned upside down by the Covid-19 pandemic, creating indefinite issues for singles and couples who live independently. As bars, restaurants, and attractions close in a domino effect across the country, it is up to every individual man and woman to pull together, hold strong, and conjure up creative ways to keep the romance alive during these difficult times.
There's never been a better time to register with a local dating website for singles who are looking for lasting romance or even a casual relationship. With so many people stuck at home in quarantine, online dating services have seen a surge in the number of personals and members looking to meet singles in chat rooms for real-world dates as lockdowns begin to lift.
Whether your relationship is long-term or baby fresh, keep the fiery passion burning bright through troubled times with our top ten quarantine date ideas.
Netflix and Chill
Don't overlook it. Netflix and Chill is the classic contemporary date suggestion that can be achieved even when you're apart. Everyone's favorite streaming service now offers a Netflix Party facility that enables people to connect with friends or a partner and watch a show simultaneously. Whether you opt to binge-watch your favorite series, catch a movie, or relax the mood with a spot of stand-up, the inbuilt chat extension allows you to talk as you would if you were signed in side-by-side. For truly authentic Netflix and Chill vibes, be sure to place an order for your favorite take-out.
Retro Gaming Tournaments
Hardcore gamer nerds might be hard pushed to notice much difference during the quarantine period! If you spend a lot of your time meeting cyber friends online and battling it out on your preferred console, why not extend the invitation to your partner. While they might not be overly enamored with investing hours into the story mode of your favorite game, some OG retro PvP options could be great fun to play over headsets. Think MarioKart and Street Fighter. You can also download Pacman Vs. from Nintendo for a contemporary competitive twist on a classic.
Audiobooks
A growing trend during the Covid-19 is coupling book clubs, and it's one that can be achieved just as easily when you're apart with a little help from FaceTime or Zoom that is. Pop five book choices each into a jar and draw one at random to read at the same time. Hook up via video chat to listen to the audiobook together, read specified chapters during your time alone, and hook up back to discuss the plot. As well as providing an awesome topic of conversation, reading has the power to relax the mind and improve your wellbeing during the stresses and strains of the Covid-19 crisis.
Cook-Off
Grab your phone or a tablet and take your date night into the kitchen for a quarantine cooking! Order weekly fresh ingredient boxes with recipe cards to match and cook dinner together in an evening. Take your meal to the table and share great food and conversation over a bottle of red. Alternatively, inject a competitive element into date night by swapping out the romance of cooking together for a cook-off! Agree on five fresh items, pick them up from the store, then meet a video call to prepare your variation of the ingredients, and compete for the cook-off crown.
Take a Class
Believe it or not, there are some benefits to dating in quarantine. Unlike a standard long-distance relationship at any other time, couples during Covid-19 share a similar experience with almost everyone in the world. This in mind, much of our everyday life has become virtual, making a distanced date night easier to fashion. Browse online for the best online classes for you and your partner to take together. Whether you both register for a salsa class, yin yoga, or a watercolor painting masterclass, join the Zoom workshop as a duo for a realistically social date night.
Sexy Charades or Scavenger Hunt
Going without sex for a little while isn't unordinary for singles or couples, especially those with demanding work schedules. Nevertheless, to be deprived – restricted – of that basic instinct can bring about a need for more. Talk through how you feel with your partner; it's likely that they'll feel the same way. So, why not make a game of your lust for more. Play sexy charades over a video call, guessing sex positions or fantasies, or tease a little more by placing clues around your home – lingerie, a toy, foodstuffs – as your tour your partner through a taste of what's to come. IOU sex coupons are a suggestive prize to redeem when lockdown lifts.
Tipple Tasting
Who says you have to venture to vineyards to indulge in a sip of wine tasting? Countless companies now offer subscription taster services for whiskey, gin, wine, and even craft beers. Why not sign up together, if only for the first box at a reduced price, and meet to taste, take notes, indicate your favorites on a tasting chart, and chat while you sling back the tipples. A simplistic yet novel corona-proof date night idea.
Breakfast (but not at Tiffany's)
There's no rule to say your time together must be spent at night! After waking up alone in the morning, wouldn't it be nice to switch on your screen and share breakfast with your someone special? Whether you stay in bed and share pastries and morning coffee with sleepy eyes, or you lay the table for a bright and cheery breakfast of pancakes, bacon, and maple syrup, seeing your favorite person when dawn breaks is sure to kick start your day on a high.
Hike and Picnic
Depending on the rate of infection in your area, it could be possible to hook up outdoors with your four-legged friends! Maintaining a safe social distance, take a ride out to the mountains or an open country park to hike through the glorious scenery, awash with the stark fresh air. Stop off for a romantic picnic, complete with antipasto treats and a bottle of bubbly. With a stunning natural landscape as the backdrop for your adventure, you'll likely become overwhelmed by the wonder of the day, creating truly unforgettable memories of a little piece of paradise amidst the pandemic period.
Board Games
It's perfectly possible to arrange a night of board games virtually! Although typically an interactive experience, with a little imagination and innovation, almost any board game can be played with the aid of FaceTime, Zoom, or other video call apps, such as HouseParty. With a strategically placed camera phone, you can talk via your computer or tablet with the third eye on player pieces moving around the board. Alternatively, the whiteboard tool on Zoom is fantastic for Pictionary, while HouseParty offers inbuilt games, including HeadsUp, Trivia, and Chips & Guac. Grab some snacks and settle down for an evening of friendly competition.