International Dates: What to Know About Love Online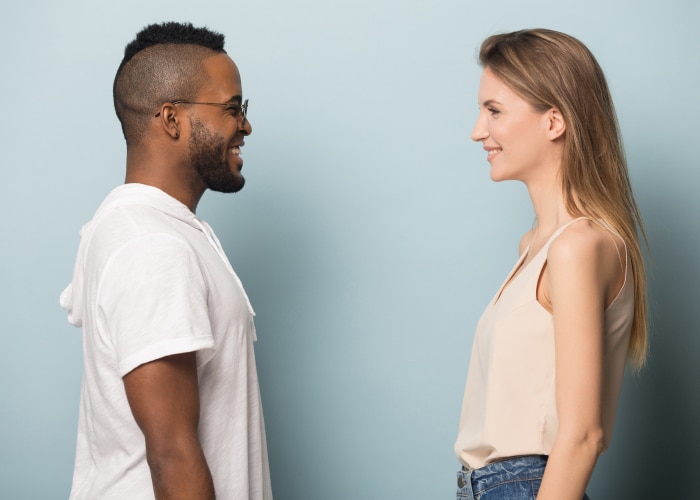 Throughout history, there's never been a time when we've been more connected. Social media and online international dating make it possible to form and maintain a relationship of any kind with people in every corner of the World.
Since the launch of online dating in the haze of the 90s, it has grown to become the most popular way to meet a match and fall in love over 41 percent of global singles now choose to use dating apps or a dating website each month, as of 2018 [1]. While this can often lead to finding a successful relationship, or even marriage, meeting foreign singles online doesn't come without risk. Don't be deterred by any potential complications. Instead, become online dating savvy by considering some essential international dating tips.
Be Open-Minded
First and foremost, it's so important to approach international dating with curiosity, free from a fixed set of expectations. Largely, in doing so, you cushion yourself from the fall of disappointment, but it also ensures you remain vigilant and switched on as you begin meeting people online. Finding love isn't the result of a fixed formula. You have to let loose a little, trust your gut instinct and be assertive, watching for red flags as you go, while not fearing differences in culture. Dating someone from another country will require you to stay open-minded about different behaviors, practices, beliefs, and even languages. It carries the potential to change your world for the better. If you're stuck in your ways and rigid in your values, international dating likely isn't for you.
Know Scams Exist
Connecting with people from across the world is undoubtedly an enriching way to spend your spare time, but it isn't without issues. International scams are a real threat to single men who are looking to meet the love of their life online. A common Internet romance scam is known as 'catfishing' – that is, when a person pretends to be someone they're not either for attention, monetary gain, or material gifts. Criminal organizations work to target guys on dating sites, taking advantage of kind cum naïve nature. In a 2018 survey, Sugar Cookie found that 43 percent of men have been catfished, with as many as 20 percent of those wiring money to their perpetrator [2]. While it isn't possible to tune into every scam that's fishing the Web, you can set off with a cautious mindset, aware that such deceptions are common.
She Is a Gold Digger
When it comes to catfishing, it isn't always criminal groups that target men. Some of the most attractive, single women in the world making their way online, only interested in finding men for money. Typically, a woman might ask for money for flight tickets or accommodation to meet their online match. Yet, a scam of this nature can be very creative, convincing men to wire cash for a wide variety of reasons, from rent payments while she saves to move to the US to regular odds and ends to make ends meet before travel. The golden rule is to never send money or expensive material gifts to people you haven't met online, no matter how genuine you feel the relationship is. Find another way to make your plans work, even if it means making the first international journey for yourself.
Marriage by Mail Order
Another area of the dodgy territory is marriage by mail order. This process typically involves a woman from a developing country, placing a personal online, seeking marriage to a man from the Western world, in order to enjoy an enhanced quality of life. While this scheme is quite commonplace amongst men looking for a young, attractive love interest, there are myriad complications to consider. Much like any other scam, mail order brides have been known to ghost a potential partner after receiving their payment for travel, or not existing at all, images courtesy of modeling agencies. Rather than dodging ploys like potholes, it's usually best to develop an authentic rapport with a girl onscreen and seeing where that relationship leads. Even if it takes a little longer to prosper.
Keep Personal Details Private
It's a given that you shouldn't divulge personal details to strangers online but swept up in the prospect of a new romance these fundamental rules can soon be forgotten. No matter how carefully a match teases your personal details from you, always be wary about sharing your family history, your address, and never give out your passwords, bank details, or credit card numbers.
Make It Happen
You've taken all the necessary precautions to protect yourself from emotional and monetary harm. Your gut instinct is telling you the relationship is genuine, and you're keen to see where it could go. Long-distance relationships aren't easy – ask anyone who travels on business, serves in the military, or attends college states away from their partner. Don't jump straight into a commitment without knowing that you can see it through the strains of a romance of this nature. Test the water and arrange dates breaks with your match a number of times before you commit, whether they live in another country or somewhere distant in the USA.
Do Your Homework
If you do decide to travel abroad, swot up on relevant cultures, traditions, and customs. Don't assume that love conquers all, and your relationship will ensure you can casually ease your way into a new way of living. Show you're serious about the new love of your life and that you consider their values important. This attitude is the first step to making an International relationship work for a couple.
Have a Plan A, B… and Maybe C
Jetting off to another country in the hope of finding your soulmate sounds like a chick flick come true, yet it doesn't always have the perfect movie ending. Before leaving, be sure to leave a copy of all contact details, including telephone numbers and visiting addresses, with a family member or friend. Keep a digital picture of your passport in a cloud and provide your trusted person with this, too, along with flight details and the details of the person you're meeting. Research the area you are traveling to, their public transport system, and know where you can stay if it doesn't work out. Maybe even reserve a fully amendable bed and breakfast room. If there was ever a time to take out a credit card in case of emergencies, this is it. Take all necessary steps to ensure you can get out if things don't quite feel right, whether that's to alternative accommodation or the nearest airport.
Trust in Time
All the excitement of new love can cause your head to spin, leaving you wanting more all at once. No matter if you meet online or in the real world, the whirlwind feeling at the beginnings of a budding bond is common and perfectly normal. That being said, those involved in a long-distance romance need to practice some level of restraint, employing their head over their heart. In the beginning, you will want nothing more than to be together and share experiences with one another. At this premature stage, don't uproot your life and give up all you have on the chance of true love. If it's the real deal, it will all happen with time.
Stay Independent
In a similar vein, don't become dependent on the match you've made online. Whether that means moving away to a different country, choosing to travel constantly to the detriment of all other aspects of your life, or simply ditching dates with friends to hang out in online chat rooms every night. Keep working, enjoy social time with friends, and do all you can to maintain balance in your life when dating Internationally. Unlike a local love affair, there's the potential for so much to be lost by going all in. Similarly, it could well be the start of something really special.
[1] Winther Paisley, Erik (2018). What to Know about the Online Dating Landscape in 2018. GlobalWebIndex. [online]. Available at: https://blog.globalwebindex.com/trends/online-dating/
[2] Dante, N. (2018). The Number of People Still Being Catfished will Shock You. Sugar Cookie. [online]. Available at: https://sugarcookie.com/2018/07/catfishing/