Online Dating Virtual Date Ideas for During Lockdown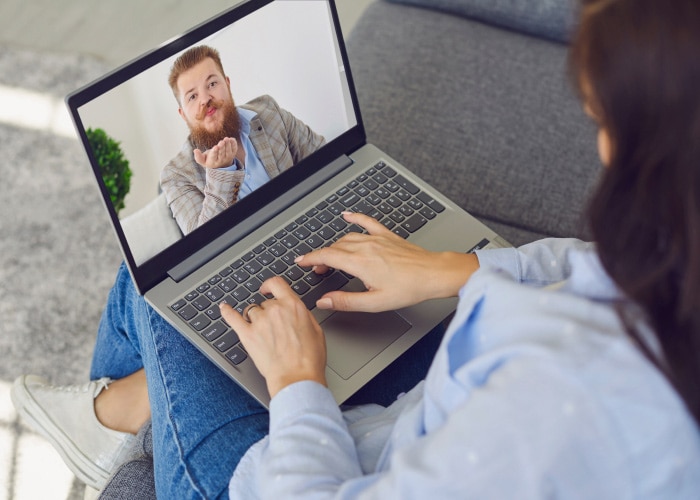 According to a 2015 study undertaken by Dr. Guldner of The Center for the Study of Long Distance Relationships, over 14 million people in the US are actively involved in a long-distance relationship [1]. Statistics from the center's continuing research estimate that, since publication, this figure now rests at approximately 15 million, thanks to the rise and rise of the online dating site. This, alongside the increasing accessibility of college degrees, separating childhood sweethearts from one another and their hometowns, the growth of international professional positions, as well as military relationships, suggests that long-distance relationships are part of the modern-day norm.
Given that the average distance between men and women in a long-distance relationship is 125 miles, date night can become tricky. Luckily, thanks to the technology, you can meet a match on a dating app one week and be meeting via Skype or Zoom for a chat or a virtual date night the next. The issue lies in how to keep things exciting with creative date ideas. Beyond catching up on a video call, is it possible to keep the passion burning bright during the continual tests of a long-distance love affair of the heart, especially given the added constraints of Covid-19 quarantine. Absolutely. And here's how.
Good Wine and Good Conversation
You're thinking of moving your date night away from 'generic virtual chat' mode, but that needn't mean kicking all kinds of talk the curb. A great way to create new topics in common is to choose a subject of conversation a week prior. Read up on it, listen to podcasts, watch a documentary or two, or even create a PowerPoint to share via Zoom. Come together with a good bottle of wine, drink together, and revel in the charm of your in-depth discussion. Learn from one another and inspire each other. From current affairs and random science facts to TV shows and music composers of times gone by, the options are endlessly entertaining.
Couples Who Cook Together…
Is it possible for couples to enjoy cooking in separate households? You bet! Set up your video call as usual and then head to the kitchen. Choose the dish you will each prepare in advance and then eat together after cooking for a romantic meal with a twist. Alternatively, agree on a setlist of ingredients only and turn the raunchy rivalry up a notch. With only five ingredients and standard kitchen condiments to create a meal from, battle it out with your partner in a challenge for the crown of Kitchen Champion.
Netflix and Chill
While there are many new-fangled and innovative ways to do long distance dating, sometimes all you and your partner want is to Netflix and Chill. As it happens, amidst the misery of the Corona pandemic, Netflix stepped up to provide a new way to catch your favorite TV shows with the important people in your life. Singles and couples alike can arrange to meet via Netflix Party at any given time and synchronize video playback on any screening of their choosing. This, combined with the site's integrated chat feature, makes Netflix Party the next best thing to snuggling up on the sofa to watch stand-up comedy, TV series, movies, and even live theatre productions. Order a take out for maximum authenticity.
Online Gaming
Seriously cool couples may already connect via Sony's Share Play feature, or into parties on Xbox, but for those less console savvy among us, plenty of apps now include in-game features. Beyond the whiteboard feature of Zoom (which is super useful for Pictionary-esque games which require you to draw), the video call app, Houseparty, allows users to integrate fully functioning games into their virtual chat worlds. From well-known classics, such as Heads Up and Trivia, to a new favorite or two, see Guac and Chips, this is an accessible and interactive way to have a laugh over a few drinks on a laidback date night.
Share a New Hobby
Despite how restricted we can feel by quarantine or a long-distance relationship, so many skills and hobbies can be cultivated between couples, all from the convenience and comfort of our own homes. Chat together and see which activities mutually attract your attention. Maybe you'll both join a nationwide plant subscription service and teach yourselves to become expert greenfingers. Perhaps you'd pick up a macramé kit online and weave your way from date night to date night. Or it might be that you each learn to play an instrument of your choosing and aim to unite for a monthly duet. After all, the best relationships are founded upon common ground, right?
Traditional Games Night
You've mastered the art of in-app gaming, but why not indulge in an evening of traditional games. Whether you reach to the cupboard to play Charades, Cluedo, or Trivial pursuit, position an additional camera just so to show the board if needed. As you talk, drink, and have fun through your webcam, a phone can provide the vital third-eye that opens up an expanse of entertainment options. This is also a great way to initiate sex games, with naughty scavenger always hunts a popular choice.
Mundane Moments
Nothing drains the excitement from your days quite like the Covid-19 lockdown. No matter whether you're apart due to the pandemic or due to other circumstances, you'll find a strange comfort comes from reliving every aspect of your day, in its most minute detail. When you create the space in your day to check in with one another, try a new kind of conversation. Relay your day from start to finish, from when you woke to the current call, and notice how it has the power to reduce the distance between you. On a day to day basis, life isn't all glitz, glam, and excitement. There's an awful lot of bore-fest bits and pieces thrown in the mix too. It's knowledge of these little things that can make you feel close together even when you're far apart.
Visit a Virtual Attraction
Fancy "getting out of the house" together? For an indoorsy date with a difference, head online to browse the various days out and city locations on a tour. Due to the closure of our favorite landmarks and attractions throughout the Corona pandemic, many places have now allow guests the pleasure of visiting via the World Wide Web. Arrange a date and time, then meet online, share your screen, and head out venturing to world-renowned museums and art galleries, local zoos, and even Egyptian tombs.
Work It Out
So many men and women love to hook up at the gym after a day at the office and work off the days' stresses and strains side by side. Unfortunately, whether Covid-19 or a long-distance relationship is keeping you apart, doing on the equipment is off the cards for the foreseeable future. That being said, there's no need to forego your love of all things fitness. Instead, sign up to a virtual class online and work out together via Zoom, just as you would in a fitness class. From aerobics and HIIT to yoga and T'ai chi, browse both your local fitness centers to see what's on offer. What's more, the beauty of virtual training is that you can join a class anywhere in the world. Broaden your horizons and subscribe to a fitness course to make it a regular date.
Start a Book Club
When you're apart from a loved one, for any reason at all, escapism is the ideal tool to mend a broken heart. Better still, by choosing to form your own book club, you can experience the story together, wherever those words take you. It might be that you have more time on your hands than before, due to changes in your daily routine – a paperback would be perfect. In contrast, if the stresses of the quarantine regularly leave your mind busy and bustling, audiobooks are an ideal choice. By embarking on a reading journey together, you can feel closer to your partner every time you open the pages of your chosen novel.
[1] Long Distance Relationships (2019 [2015]). Long Distance Relationship Statistics 2019. Available online at: https://www.longdistancerelationshipstatistics.com