Romantic Ideas for Lesbian Dates Your Girl Will Heart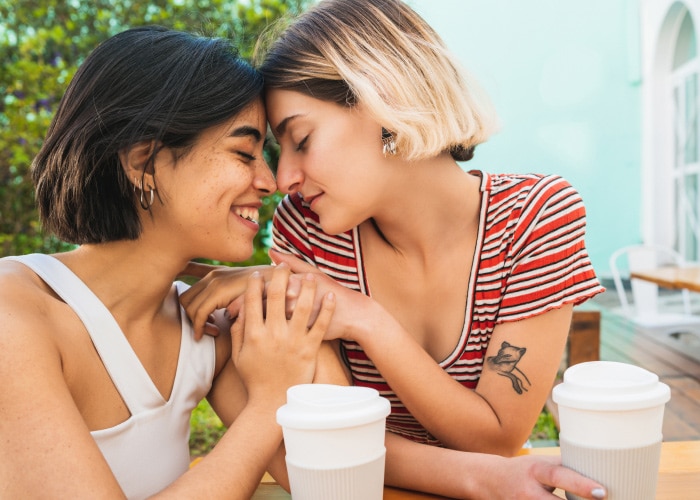 It's finally your time! After decades of lesbian rights activism and third-wave feminism progressing into fourth, gay girls can finally date openly and freely in most USA areas. According to a 2017 survey conducted by Gallup, 5.1 percent of womxn now identify as LGBT [1]. With only 3.4 percent identifying as LGBT in 2012 when the poll was first taken, this figure is increasing year upon year, equating to approximately 9 million queer females in today's America. Paired with the rise and rise of online dating, it's never been easier to meet single lesbians. Despite the restrictions and complications caused by the Covid-19 pandemic, a specialized W4W dating website can help you match with new girls, ready for real-world dates when the time is right.
Speaking of which, if you find it tough to conjure up creative date ideas, don't dismay. With a little inspiration, you'll have tonnes of romantic tricks up your sleeve, prepared to impress either your long-term partner or a new girlfriend.
Romantic Meal for Two
Let's keep it classy and classic with a romantic meal for two. Sure, you hit up chain restaurants any day of the week but blow your girl's mind with a booking somewhere fancy. There upscale eateries in every city of every state. In fact, you'll be spoilt for choice if you browse around the Web for a while. Pair your meal with drinks at a modish cocktail bar or end the evening with some feisty karaoke fun or live music at your nearest gay girl bar.
Nextflix and Chill-ed Wine
Put a bottle of something white on ice and switch on your TV screen. Sometimes, a cozy night binge-watching your favorite drama series is the perfect date suggestion. When considering ideas, look for a sign that your girl wants some downtime. Long days at work, an ordinarily hectic social calendar, or simply the weariness that comes with autumn evenings. Light candles, grab a blanket, and snuggle down with a tub of your favorite Ben & Jerry's flavor in hand. Two spoons.
Go Culture Vulturing
Dates aren't all about stiletto heels and fancy dresses. When you meet a match who speaks to your heart, you'll find you have plenty else in common that makes date-designing super easy. Visit a local landmark or attraction, maybe free museums, wildlife sanctuaries, and art galleries, and soak up some culture together. If you're at the beginning of a relationship, these make top hook up spots, providing endless talking points for effortless conversation. Flirt and talk your way around any exhibition, and you'll discover so much about one another, from personal interests to the little quirks of life that make your heart tick.
Adventure Days
If the slow pace of a museum, art exhibition, or landmark tour doesn't speak to you, opt for a little more adventure. If you're new to adrenaline-fuelled fun, there are countless companies online who will happily organize a date for you and girlfriend. Surprise her with a gift certificate to redeem at a time of her choosing or simple drive out with no warning sign of what's to come. The shock of the surprise is guaranteed to inject some excitement into your relationship. Consider water rafting, zip-lining, or abseiling as daring date options.
Shop 'til You Drop
Shopping isn't everyone's idea of a relaxing time, but you can bring a level of originality and switch it up into a romantic rendezvous. Swerve all the stores on the high street and head off the beaten track. Visit a flea market and independent boutiques to bag bargains on vintage clothes, old vinyl records, and unique decorative accessories for the home. Adjust your shopping schema to include rummaging for hidden treasures, and the thrill of the find can quickly transform into a cheap and cheery date.
Coffee and Cake
What could be more natural than catching up over coffee and cake with someone special? Now a part of our day-to-day culture, grabbing coffee and cake is the superlative solution for women dating women, whether they are fresh into the start of a romance or in a long-term loving relationship. Drop by your favorite spot for an iced latte, carrot cake, and friendly conversation, or go industrial-chic barista for a smooth Costa Rican Americano and pistachio macarons over flirtatious chat. Who knew the unassuming coffee and cake date could be so very versatile!?
Spa-Day Date
For the ultimate in relaxation, book in for a couple's spa day at a local health and fitness retreat. Much more than a sauna and steam room, a spa day surprise is a romantic gesture and an invitation to rejuvenate and recuperate in the presence of your favorite person. As well as a light lunch and bubbles, be sure to book in for a couple's treatment, where you can enjoy a massage or any other holistic therapy simultaneously, side by side. If you're really keen to push the boat out, many spa days provide the option of adding a night's stay onto your package.
Get Into the Spirit
For lesbian ladies who are a fan of drinks with a high ABV content, LGBTQ+ friendly nightclubs and girl bars aren't the only way to spend your evening together. Look up local vineyards, distilleries, and breweries to discover a world of spirited events and tours that provide the perfect way to spend an hour or so with your beautiful drinking buddy. Alternatively, sign up for a monthly subscription service to have wines, gins, whiskeys, and even craft beers delivered to your door, to create your own private liquor tasting experience.
A Night at the Theatre
From Shakespearean tragedies and heart-stopping dramas to light-hearted plays and vivacious musicals, there's a night at the theatre for every person. An excuse to throw on your finest clobber and head out onto the tiles, watching a show softly balances all aspects of the 'dream date': live a new experience together and make memories, while the performance provides respite from chat to create common ground for conversation during drinks once the curtains close. If you'd rather opt for a night indoors, check out the most popular film subscription services that bring the best musical movies straight to your screen, from Grease to Hairspray.
Get Creative
Unleash your creative side by embarking on a series of art-centric date nights. Whether you attend watercolor workshops or a themed pottery painting event, a DIY macramé weaving class, or spend a night in crocheting your favorite retro cartoon characters, there's an art form that will call out to every kind of woman. Set aside time to indulge in your new hobby and work to build skills that you can share together, whether to adorn your home or simply engage in mindful activity as a couple, as an escape from day-to-day life pressures.
[1] Newport, Frank (2018). In US, Estimate of LGBT Population Rises to 4.5%. Gallup. [online]. Available at: https://news.gallup.com/poll/234863/estimate-lgbt-population-rises.aspx